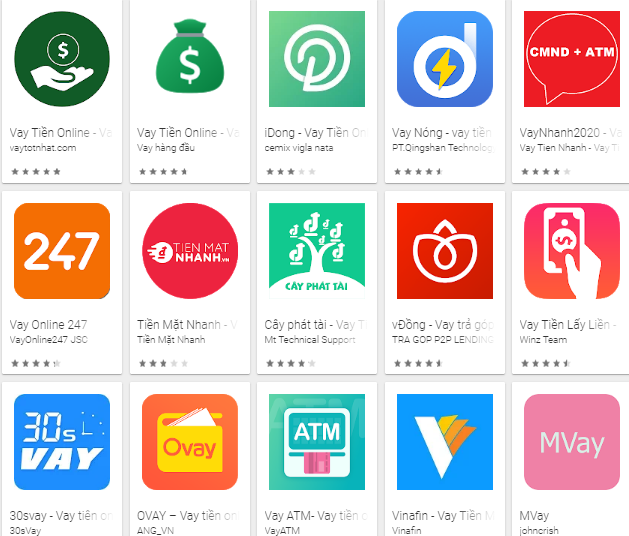 HÀ NỘI — The Ministry of Planning and Investment (MPI) has warned about the increasing use of foreign peer-to-peer (P2P) lending in Việt Nam with potential risks of black credit.
According to a draft report on the impact of the shared economy that MPI sent to ministries and ministerial-level agencies, P2P lending first appeared in Viet Nam in 2016 in the form of fintech companies, aiming towards unbanked customers. However, this has become a channel for so-called black credit.
A representative from the ministry said: "The operation of the P2P lending model has brought positive effects, but if not managed and supervised closely, there may be a negative impact on society."
The ministry's report said the current legal framework did not have specific provisions for peer-to-peer lending, while some companies had seen strong growth in customers.
After registering with pawnshops, financial advisors and brokers, the companies were providing services to connect investors and borrowers with loans on online trading platforms. 
On social media, ads were offering online loan applications with very attractive rates and simple procedures. They give borrowers a lower amount of money at a high interest rate, but resort to threats when the debts are not repaid on time. 
Recently, authorities in HCM City have found and dealt with illegal usury lines and black credit offered through online P2P lending applications on social networks. 
Major Trịnh Khánh Hùng, deputy head of the city's Public Security Criminal Police Division, said in 2020, the city police handled many cases involving Chinese lenders who cooperated with local people to run fintech companies.
For example, police found illegal lending activities at Chinese-related Sora Technology Co., Ltd. and Di Thai Ky Financial Services Co., Ltd in May 2020 in District 2.
Police also found similar activities at Cashwagon Co., Ltd. and Lendtech Co., Ltd which were headquartered at 17 Tôn Thất Tùng, District 1, in June.
Also in 2020, the city police investigated apps led by Chinese citizens which lent to more than 60,000 people in 60 provinces and cities for a total of about VNĐ100 billion (US$4.3 million). These applications, namely "Vaytocdo", "Moreloan" or "VD online", provided loans with "exorbitant" interest rates of 2.5 per cent per day, equivalent to 17.5 per cent per week, 75 per cent per month and 912.5 per cent per year. 
Legal framework needed
Facing developments of P2P lending, Phạm Tiến Dũng, director of the Payment Department from the State Bank of Viet Nam, spoke at a recent press conference on the implementation of banking sector tasks this year, saying: "SBV is continuing to monitor the market for appropriate management solutions."
Dũng said the bank was assigned a pilot mechanism for P2P lending and has submitted a report to the Prime Minister, adding it was working on a decree relating to trial activity of P2P lending.
The release of a legal framework by regulators would create conditions for genuine companies in P2P lending to develop, as the main point of the service was to help unbanked people access loans.
As a leader of one a P2P lending firm, Đỗ Minh Hải, director of ATM Online Company, said: "Most people use black credit as they are afraid to spend time providing complicated documents and procedures to prove their finances, income and payment ability."
Hải's company was using an electronic customer identification solution (eKYC) with big data to identify customers, which helped them to receive the money in about 15 minutes.
Hải said legal fintech firms were trying to bring in technology to help borrowers complete administrative procedures: "At the same time, they help contributing to repelling black credit." — VNS
Xem thêm: lmth.tiderc-kcalb-diova-ot-tnemeganam-retteb-sdeen-gnidnel-p2p/975368/ymonoce/nv.swenmanteiv