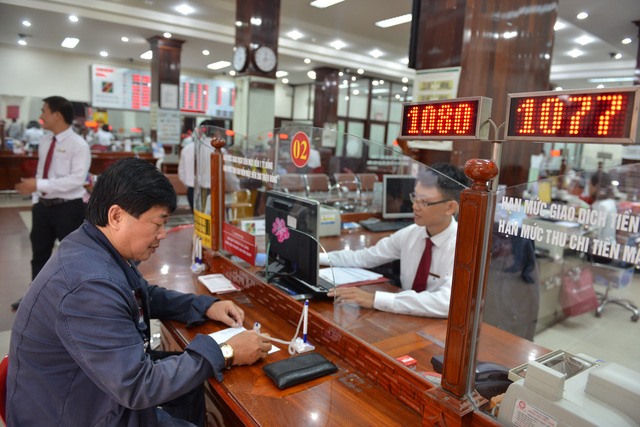 HÀ NỘI — The State Bank of Việt Nam (SBV) has officially approved credit room extensions for some banks in line with fulfilling the Government's policy of both managing the fight against the pandemic and continued economic development.
Instead of the 10-12 per cent allowed under the most recent current credit growth grants, some banks will be able to issue credit up to 14-15 per cent for the year.
Banks that have been allowed to expand credit are mostly pursuing Basel III standards and all have met the requirements of Basel II.
The SBV advised that it has also given priority to credit institutions that are implementing the Government's policy and the SBV's directions, to reduce lending interest rates to assist businesses and people struggling through the economic impacts of COVID-19.
The adjustment of the credit growth target, also known as a room extension, is made at the credit institution's request.
The SBV carefully assesses the operational environment, financial capacity, governance and ability to expand healthy credit of each credit institution before approving extensions.
The SBV said that the room extensions would assist the country's economic growth but also that it was aware of the inflation risks, and that room extensions would be most effective in conjunction with other solutions and other monetary policies.
Banks cut lending rates to support pandemic-hit clients
The Việt Nam Bank for Agriculture and Rural Development (Agribank) on Thursday said it would cut lending rates in Vietnamese đồng for the fifth time.
The bank will reduce interest rates for short-term loans with an annual interest rate of at least 5 per cent, and mid-and long-term loans with an interest rate of no less than 7 per cent.
The interest rate cut will save borrowers about VNĐ5.5 trillion (US$239 million).
The programme, to last until December 31, will be rolled out at all 2,300 transaction sites of Agribank in the country.
Agribank has also restructured loans, provided free-of-charge domestic money transfer services, and donated more than VNĐ130 billion to combat COVID-19.    
The Asia Commercial Joint Stock Bank (ACB) also announced that lending rates on its short-term loans would be cut by a maximum 0.8 percentage points and that of mid and long-term loans, by 1 percentage point, for existing loans.
The bank will adjust the lending rates for both individual and institutional clients between July 15 and October 15.
The Sài Gòn Thương Tín Commercial Joint Stock Bank (Sacombank) on Wednesday was the first to cut its lending rates following a meeting between the State Bank and credit organisations.
It adjusted the annual rates down by 1 percentage point for outstanding loans of businesses and individuals affected by COVID-19. Notably, those operating in tourism, transportation, catering and lodging services, education and health care.
General Secretary of Việt Nam Bankers Association, Nguyễn Quốc Hùng, told the Vietnam News Agency that more banks are expected to follow suit from now till the end of this year to assist pandemic-hit clients.
At the meeting between the State Bank and credit organisations in the beginning of this week, credit institutions reached a consensus on reducing lending rates with a focus on businesses suffering most from impacts of the COVID-19 pandemic. — VNS
Xem thêm: lmth.moor-tiderc-dnapxe-ot-sknab-swolla-vbs/181499/ymonoce/nv.swenmanteiv