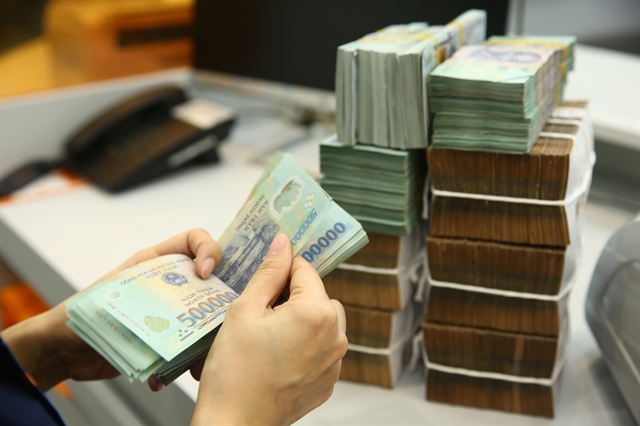 HÀ NỘI — The State Bank of Việt Nam is studying a proposal for developing a law on resolving the non-performing loans (NPLs) of credit institutions over the risk of rising bad debts as the COVID-19 pandemic weighs on production and business.
Four years after implementing Resolution 42/2017/QH14 regarding resolving NPLs, the system's overall bad debt ratio was reduced to below three per cent.
However, the pandemic has heavily affected the financial situation of enterprises and businesses increasing the risk that NPLs might increase in the post-pandemic period.
According to BOS Securities Company, bad debts saw a slight increase in the first months of this year compared to the end of 2020. Bad debts of listed banks were estimated to total more than VNĐ91.4 trillion as of March 31, nearly VNĐ4 trillion higher than at the end of last year.
BOS Securities also pointed out that maintaining debt classifications made the picture of bad debts fail to reflect the real situation.
As the COVID-19 pandemic is becoming worse in many provinces and cities with strong social distancing measures in place, it is also heavily affecting production and business. As a result bad debts are expected to increase, forcing the State Bank of Việt Nam to develop a way to resolve bad debts after the pandemic.
The Banking Inspection and Supervision's statistics show that the on-balance sheet NPL ratio was on an increasing trend in the first months of 2021, from 1.69 per cent at the end of 2020 to 1.78 per cent at the end of April 2021, adding that  bad debt ratios by the year end could be higher than previously forecast.
Under the Document No 08/TTr-NHNN submitted to the Government, the on-balance sheet NPL ratio was forecast at 1.54-1.91 per cent by the year end and the overall ratio of bad debts, including on-balance sheet NPLs, debts sold to the Việt Nam Asset Management Company which remained unsolved and debts which could turn into NPLs at 3.43-3.84 per cent.
Financial and banking expert Cấn Văn Lực said that it was necessary to complete early the project for restructuring credit institutions in the 2021-25 period to effectively resolve bad debts.
The central bank should also review credit policies and enhance risk management to prevent increases in NPLs, especially in the context of the COVID-19 pandemic.
Lực said that it was necessary to develop a law on resolving bad debts to increase efficiency.
The State Bank of Việt Nam was studying the proposal which would aim to create the legal framework for thoroughly tackling existing problems in handling bad debt and other mortgage assets and ensuring the safe and sustainable development for the banking system in particular and the economy in general.
The central bank's statistics showed that bad debts were estimated to total VNĐ425.4 trillion as of May 31, accounting for more than 42 per cent of the total outstanding loans. — VNS
Xem thêm: lmth.slpn-gnilkcat-rof-krowemarf-gnipoleved-rof-lasoporp-gniredisnoc-vbs/534899/ymonoce/nv.swenmanteiv