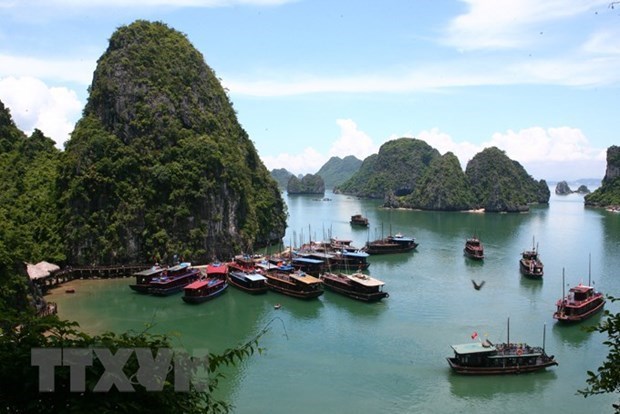 QUẢNG NINH — To ensure pandemic safety, Quảng Ninh will apply the sandbox model to tourism and prioritise serving groups of tourists once this northeastern coastal province re-opens its door to travellers from other localities.
The provincial People's Committee this week held a teleconference with departments, sectors, and localities in Quảng Ninh to look into procedures for tourist reception to achieve the target of attracting two million visitors in the fourth quarter.
Chairman of the People's Committee Nguyễn Tường Văn said tourism development needs to be based on the principle of safety, so criteria for making tourist reception procedures and rules on traveller behaviours must be clarified.
Quảng Ninh has permitted local tourist sites to welcome visitors from within the province from October. It is planning to re-open to those from other localities next month.
The provincial Department of Tourism has drafted guidelines on procedures for the trial reception of visitors in the "new normal" context, including requirements related to those from within Quảng Ninh and from other localities.
According to these draft guidelines, tourism businesses and service suppliers must guarantee safety from COVID-19 by meeting safety requirements for passenger transportation, vehicles, tours, and destinations.
Director of the Tourism Department Phạm Ngoc Thủy said Quảng Ninh is calling on local residents to visit local tourist sites, adding that it is encouraging enterprises based in the province to organise tours for their employees.
To lure travellers from other localities, he added, it is necessary to boost tourism promotion to attract tourist groups while ensuring safety for visitors to local places of interest.
The sandbox model should be applied to ensure safety amid the pandemic, Thủy noted.
Once getting the green light from the provincial administration, Quảng Ninh will firstly re-open the Tuần Châu international tourism and entertainment complex, Hạ Long Bay, and the Complex of Yên Tử Monuments and Landscape to tourists from other localities. In particular, sandbox tours such as night cruise trips on Hạ Long Bay and trips to the high-end Legacy Yên Tử Resort will be given the top priority.
This trial period will undergo frequent examination and assessment, according to the official.
The provincial People's Committee assigned the departments of health, transport, and tourism to advise it about the conditions necessary for ensuring COVID-19 safety and form "green" tours and tourist sites when welcoming tourists from elsewhere back.
Meanwhile, localities in Quảng Ninh were told to proactively get plans and criteria ready for traveller reception to support safe tourism recovery.
The province has completed injecting all eligible people with the first doses of COVID-19 vaccine, and the administration of the second doses is expected to finish in October.
At present, people coming to Quảng Ninh are still required to be fully vaccinated and have a negative RT-PCR test result for the coronavirus within 72 hours. — VNS
Xem thêm: lmth.msiruot-ot-ledom-xobdnas-ylppa-ot-hnin-gnauq/5554501/ymonoce/nv.swenmanteiv