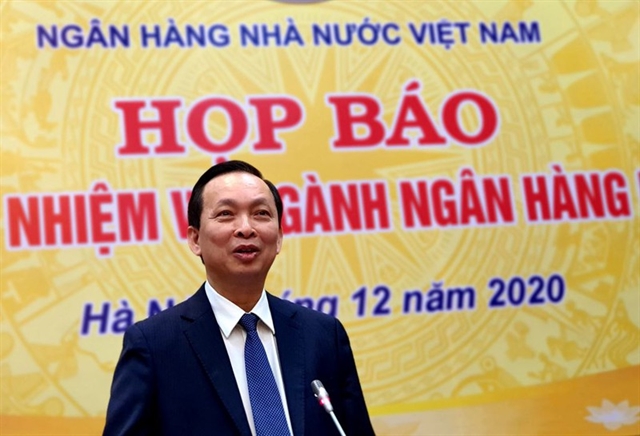 HÀ NỘI — Deputy Governor of the State Bank of Việt Nam (SBV) Đào Minh Tú has said despite the COVID-19 pandemic, the bank has operated local monetary policy effectively and flexibly this year.
Tú informed the press of the banking sector's tasks in 2021 in Hà Nội on Thursday saying that the central bank has coordinated with the fiscal policy and other macroeconomic policies to control inflation, stabilise the macro-economy, money market and foreign exchange as well as supporting economic recovery during the pandemic.
At the same time, he said the bank has directed credit institutions to drastically implement measures to cope with impacts, supporting businesses and people to overcome difficulties caused by COVID-19 and the serious floods that caused devastation in the country while it has also continued to drastically restructuring the industry and handling bad debt. 
He said: "Despite being heavily affected by the pandemic, monetary policy management and banking operations still achieved many positive results in all aspects."
According to a representative of SBV's Credit Department, the central bank has managed credit growth in a reasonable manner in accordance with the level of absorption of the economy with a focus on production, consumption, priority sectors.
He said such management has made an important contribution to the recovery of production and business activities, maintaining economic growth after the pandemic while still strictly controlling credit in the sectors most at risks.
Though the credit growth was slower due to the weaker credit demand from the negative impacts of the pandemic, as of December 21, 2020, credit still increased by 10.14 per cent compared to the end of 2019 and 11.6 per cent from the same term of 2019.
As of December 18, 2020, the total means of payment known as the ratio of deposits in foreign currency to the total money supply, increased by 12.83 per cent from the end of 2019 and up 14.62 per cent over the same period last year.
The bank said: "The liquidity of the credit institution system is smooth."
Regarding interest rate management, from the beginning of 2020 up to now, the central bank has adjusted and reduced interest rates three times, with a total reduction of 1.5 to 2 per cent per year.
At the same time, it has directed credit institutions to save costs and reduce lending interest rates, especially in priority areas. As a result, as of November 2020, lending interest rates in Việt Nam decreased by an average of 1 per cent per year compared to the end of 2019 and the maximum interest rate for short-term loan in the local đồng for some priority sectors and industries was at 4.5 per cent per year. — VNS
Xem thêm: lmth.vbs-tnec-rep-01-naht-erom-sesaercni-llits-tiderc/159538/ymonoce/nv.swenmanteiv