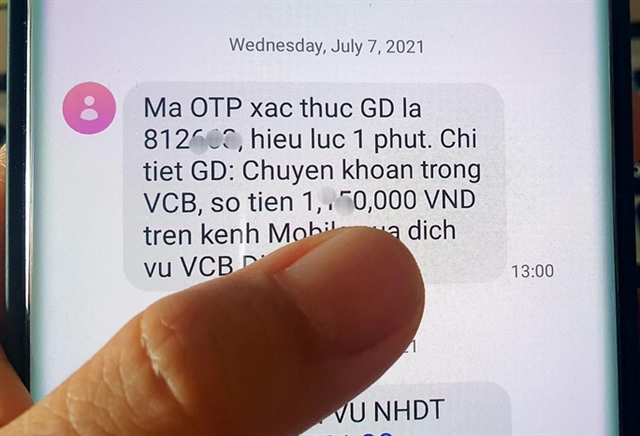 HÀ NỘI — Banks recommend users keep their personal information, account numbers, and especially OTP codes confidential to avoid losing money.
The State Bank of Việt Nam (SBV) has just issued official dispatch No 7611/NHNN-TT to payment service providers on strengthening measures to ensure security and safety of payment activities.
Through monitoring and supervising payment activities, the State Bank has noticed that high-tech crimes have recently emerged, in which fake SMS messages are sent to trick customers into accessing and transacting at fake bank websites set up by criminals.
To prevent and reduce the risk of fraud in the provision and use of payment services, the SBV requests payment service providers develop an appropriate roadmap and implementation plan on measures to check and verify customer identification information when performing transactions.
For those that open electronic Know Your Customer (eKYC), they must comply with regulations.
As noted, in addition to fake messages, a series of other tricks are being used by high-tech criminals to appropriate money in customers' accounts.
Sài Gòn – Hà Nội Commercial Joint Stock Bank (SHB) has also warned of tricks used to steal personal information and transaction information to withdraw money via e-wallets.
In addition, the criminals can impersonate the authorities, bank staff and e-wallet employees to call and ask customers to provide personal or transaction information to appropriate customers' information and money. — VNS
Xem thêm: lmth.segassem-knab-ekaf-fo-snraw-vbs/1364701/ymonoce/nv.swenmanteiv